Show your business and gain the trust of your customers with GMB and XeroBizz.
With Google My Business(GMB), a free tool from Google, you can make your GMB profile, which will help you reach more potential customers through Google Search and Maps. On your GMB profile, you can provide detailed initial information about your business via texts and videos or images so that customers can catch you easily without entering your website.
Google My Business has many features, and each feature has different benefits. In this article, I will discuss the feature of posting videos and images on GMB profile and its benefits. Also, I will tell a few words on XeroBizz's new feature called 'Media Manager' that will give whole control on this specific feature.
Benefits of videos and images on your GMB profile:
On your GMB profile, you can post any videos or images that can show the customers your business in detail. The moment a client search your business name, the posted images or videos will appear on the Google search page. That is, the client instantly can watch the images and videos you have uploaded thus far and know your business full well. Moreover, because different kinds of videos and images make your GMB profile dynamic and reach, the customers will be attracted to your profile. Also, Google will choose your business to show on their three-pack results. And if so, your business will reach more people.
When you show the customers the manufacture of your products, they will have trust in your products and hence, they will get encouraged to buy your products. Besides, when your customers will see your team working in your office, they will feel familiar to them and likewise, would be comfortable buying products they have made. When your clients see the interior design and architecture of your office, they will know how sophisticated you are. If you have a restaurant business, you can show them the menu and different food items from where they can choose their favorite one and can consult with their dear ones in advance as they do while sitting at the table of a restaurant.
That is, your business will attract more customers, your sales will increase to the top-level, your brand value will ascend. In a word, your business will flourish.
Showing everything of business to customers is the best way to gain their trust. Hence, it is the most effective marketing policy in the entire world.
What is XeroBizz's Media Manager?
XeroBizz, management software to run your GMB profile, now comes with a striking feature called 'Media Manager'. With Media manager, you can easily upload images or videos on your GMB profile in different categories such as cover photo, logo, profile picture, interior, exterior, product, at work, food and drink, menu, common area, rooms, teams and additional.
How to use Media manager?
Using XeroBizz's Media manager is very easy. It has an easy-to-handle interface from where you can control everything you need.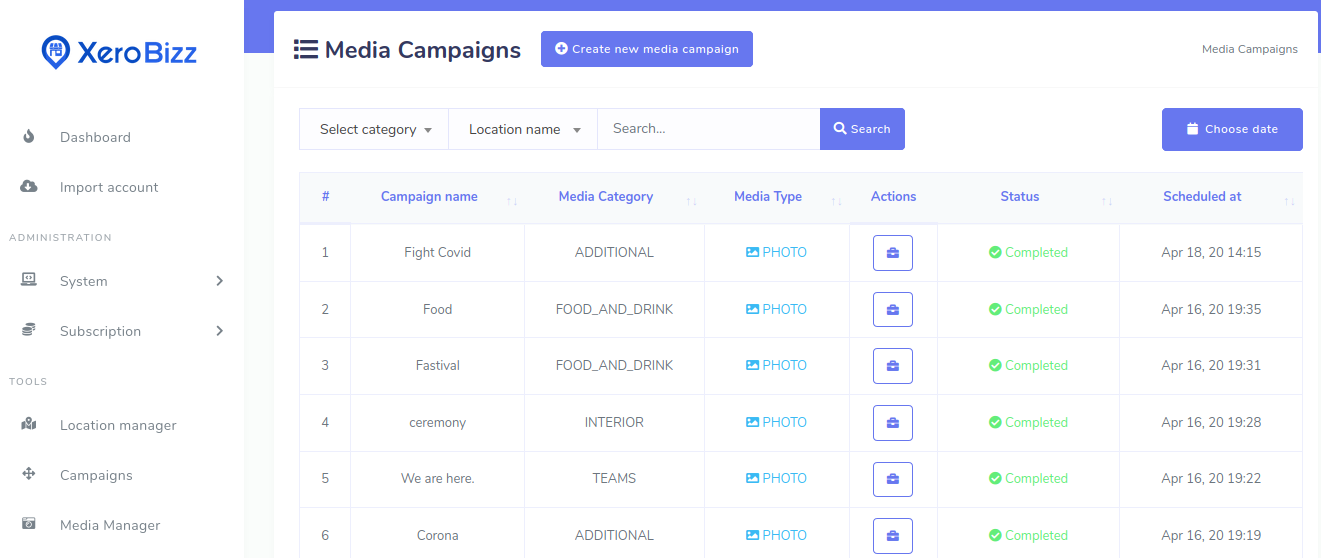 First, log in to XeroBizz Dashboard, then click on the 'Media Manager' feature and right away, the media manager interface will be showed up. Now just click on the 'Create new media campaign' button on the top of the interface.
'Create media campaign' page will appear where you have to upload images or videos from your system with a campaign name and a media description. Also you need to select a category and a location where the media will be posted. Straightaway, your media, image or video, will be posted to your GMB profile. But you can make a schedule for the media to be posted. In other words, With the schedule option, you can upload media to be posted at different times. Besides, you can check from the same interface if the media is posted on your GMB profile. That is, you needn't go to your GMB profile to make sure. You can even delete any media whenever you want. Likewise, you can find any media, searching by the campaign name and selecting the specific category and location.
Why use XeroBizz's Media Manager?
You can, of course, upload images or videos to your GMB profile manually. But because it is a tiresome task, you may find yourself not posting images or videos on your GMB profile regularly. In other words, you will fail to show your business details to your customers and thus, your customers will lose interest in your business. Eventually, your business will slow down.
Therefore, I suggest you use XeroBizz's 'Media manager', so that you can always upload videos and images, the videos and images that will draw more customers and which will, in turn, flourish your business.