What you will get in the ChatPion revolutionary update, ChatPion 8
ChatPion revolutionary update, ChatPion 8, has already been released. In the revolutionary update, ChatPion has been improved greatly and significantly. 
The main thing in the revolutionary update of ChatPion is that the flow builder and Instagram DM bot have been included in ChatPion —they have become features of ChatPion. That is, the Flow builder and Instagram DM bot are no longer add-ons of ChatPion. Therefore, you don't have to buy these add-ons. Just buy ChatPion and start building Facebook and Instagram DM bot by dragging and dropping. 
Improved Flow Builder
The Flow Builder is much more improved now. Now let's discuss the improvements of the Flow Builder. 
Auto connections of the components: 
Now you don't need to drag components from the doc-menu one by one and connect them with each other. Just drag your cursor from the socket of a component and drop it. Instantly, the menu of compatible components will appear. From the menu, you can select any component you wish. Just as you select the component, it will be connected to the mother component. Therefore, you don't have to memories which components are compatible with which ones. 
New design
The Flow Builder has come with a new design. The doc menu of the Flow Builder is more organized and simple than before. Also, the components of the Flow Builder can display the data on it properly. Besides, the whole Flow Builder becomes colorful.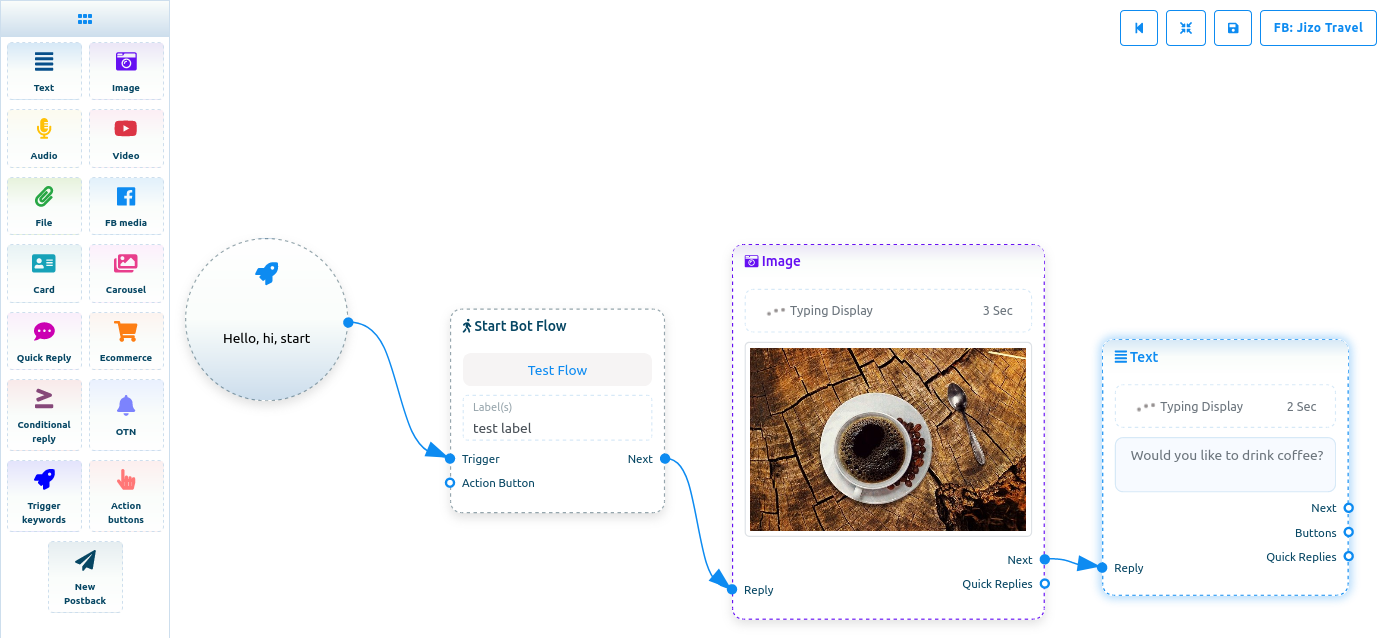 Creating a New OTN template
Also, you can create a one-time notification template in the Flow Builder easily. That is, to create a one-time notification template, you don't have to go to another page. After you have created a one-time notification template, you can add the template to your bot. 
Creating new labels
You can easily create labels on the Flow Builder. That is, from now on, you don't have to go to another page to create new labels. After creating new labels, you can use them in your bot.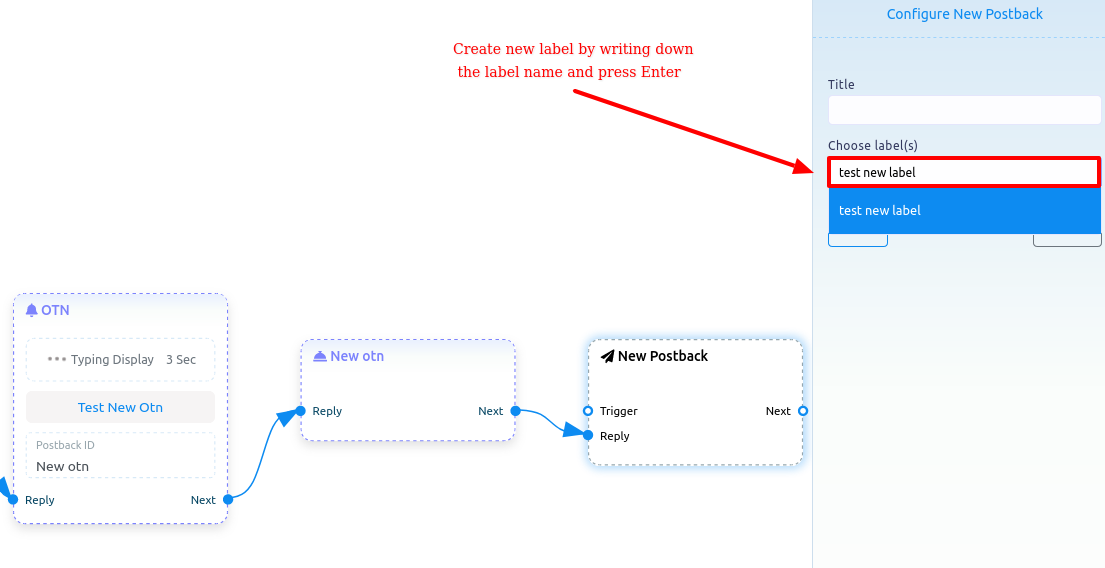 Recursive connection
The new Flow Builder supports recursive connections. That is, you can reuse a component or a part of the bot multiple times in the same bot. 
Bot flow Keyword settings
In the trigger keyword component of Flow Builder, you can select exact keyword match or substring match. And the reply will be sent based on your matching type.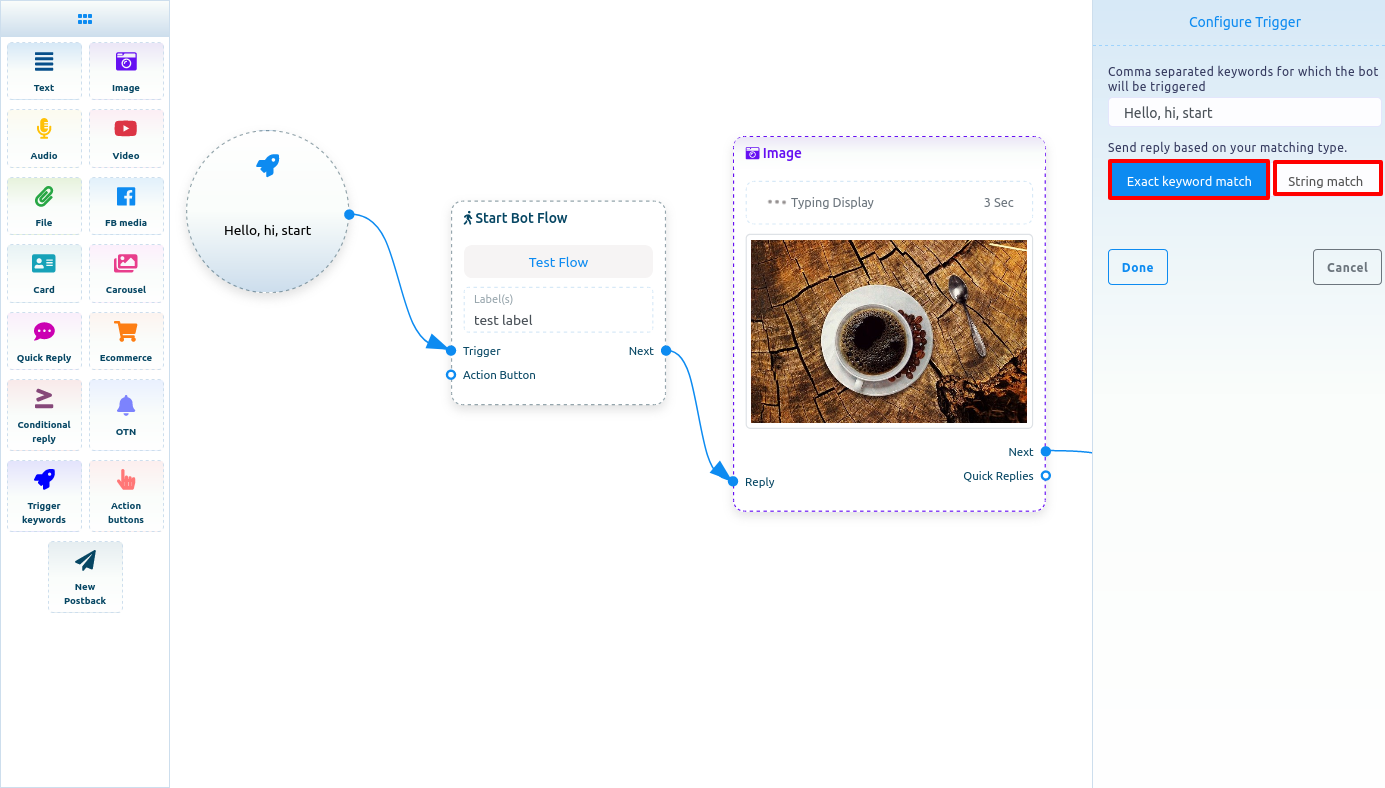 Live Chat
And in the Live chat feature of ChatPion, you can easily switch your Facebook page. You can send predefined bot flows or postback templates via the Live Chat feature of ChatPion.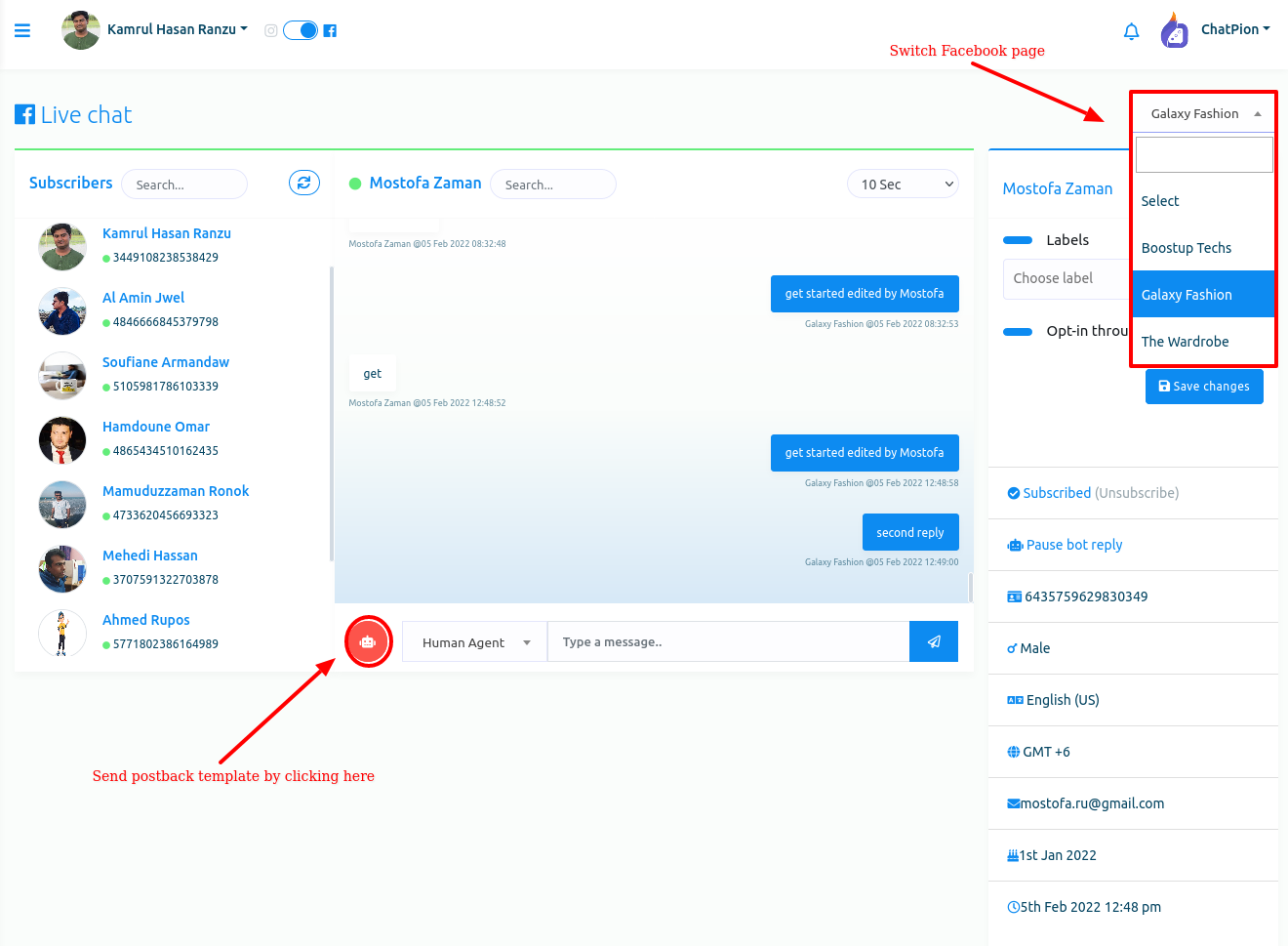 Bot settings
All bot settings are gathered in one place. Therefore, you can easily build a bot without moving to and fro. And like the Facebook Messenger bot, you can import and export bot settings for the Instagram DM bot.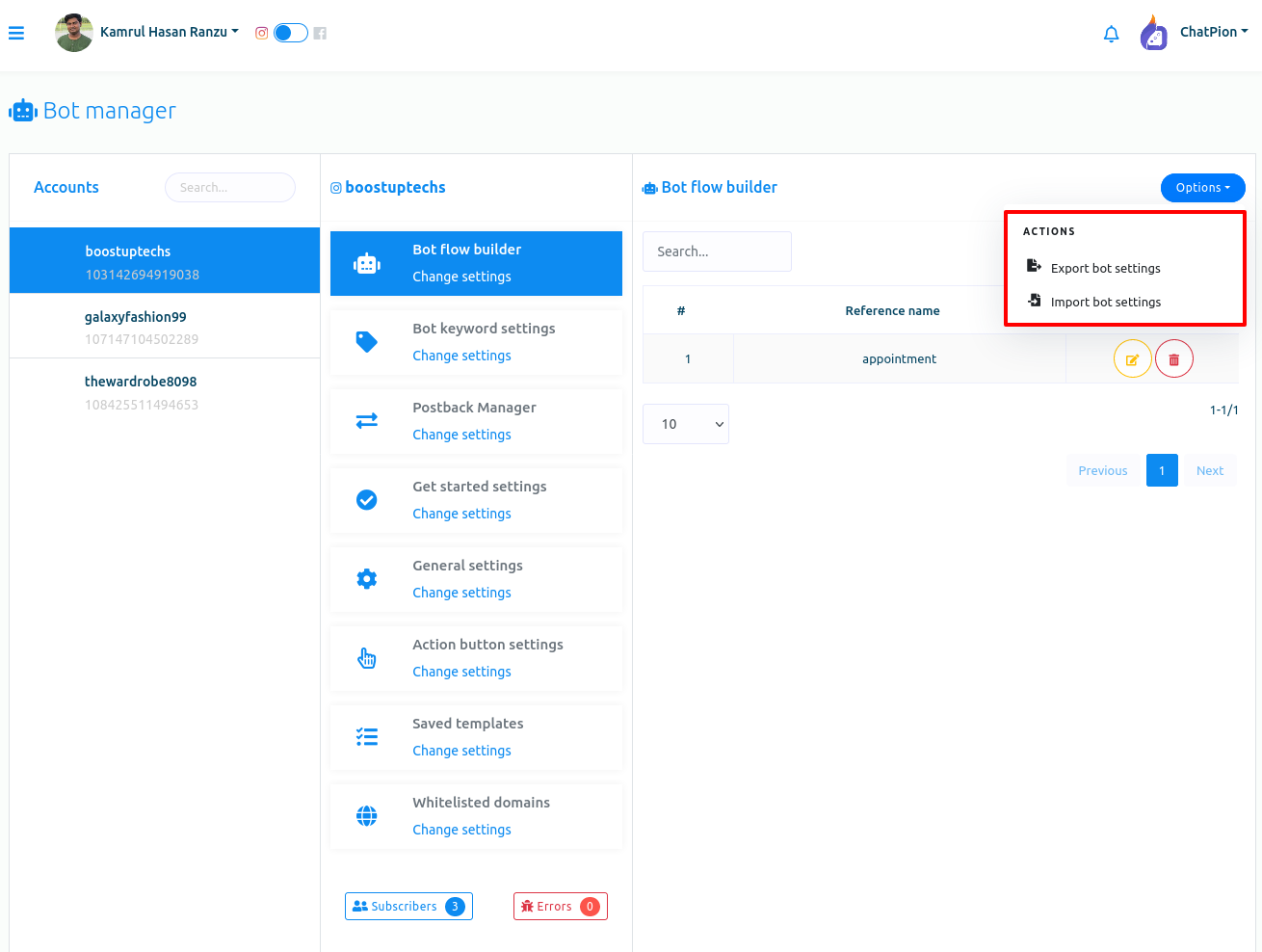 Improved Social Posting feature
Now you can create Posting campaigns from the same page for Facebook and Instagram. To create a campaign for Facebook, you have to select Facebook on a radio button. On the other hand, to create a campaign for Instagram, you have to select Instagram on the same radio button.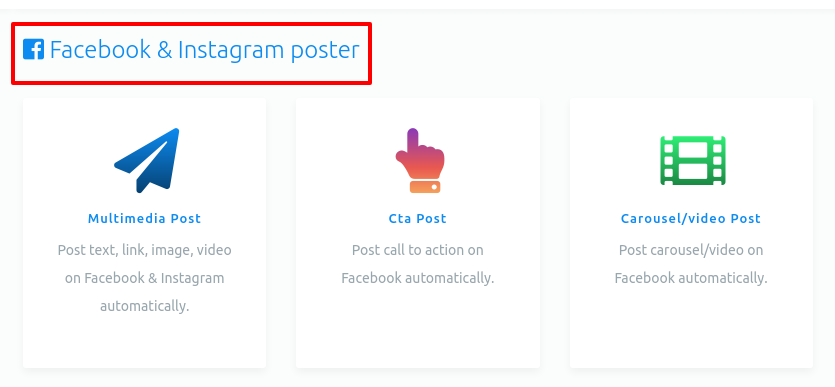 Subscriber manager
Now you can see the number of subscribers in label-wise. Also, you can search the labels. The Subscriber manager page is more well developed — more optimized. All related things are gathered together.  That is, you can do many things on one page.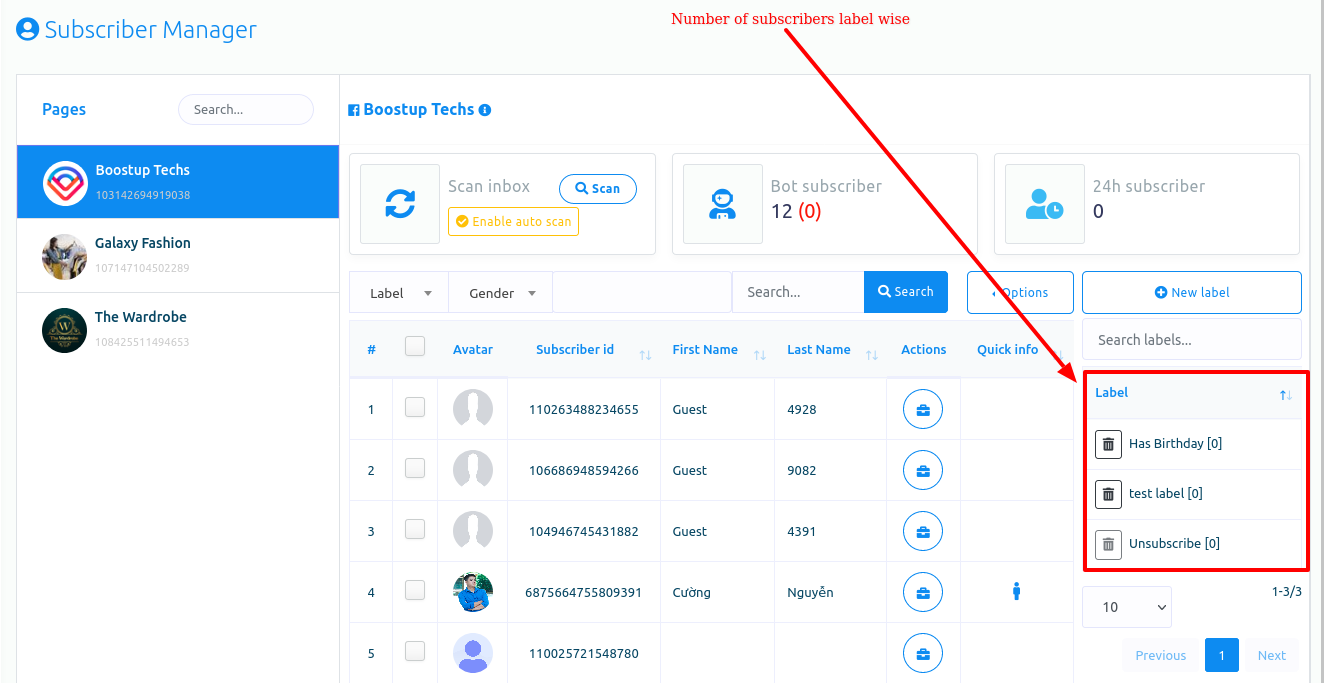 Well developed dashboard: 
ChatPion 8 comes with a much more well-developed dashboard. On the dashboard, you can see different types of data in graphical interfaces. 
You can see the number of Subscribers – Facebook Subscribers, Instagram subscribers, Ecommerce subscribers, and the total number of subscribers. Also, you can see how many bots are enabled, how many comment reply campaigns (For Facebook and Instagram) are enabled. 
Even you can see the number of orders, the number of pending orders, and the number of finished checkouts of your eCommerce store. Even, you can see the total earnings in USD from your eCommerce store.

Also, you can see how many messenger subscribers are gained in the last 12 months and how many email addresses and phone numbers are collected by your bot.
You can see how many subscribers you get from different sources – Checkbox plugin, Sent to Messenger Plugin, Customer chat plugin, Direct From Facebook, Comment Private Reply,  M.me link — in written and in a piechart.   

You can see the eCommerce earnings in graf.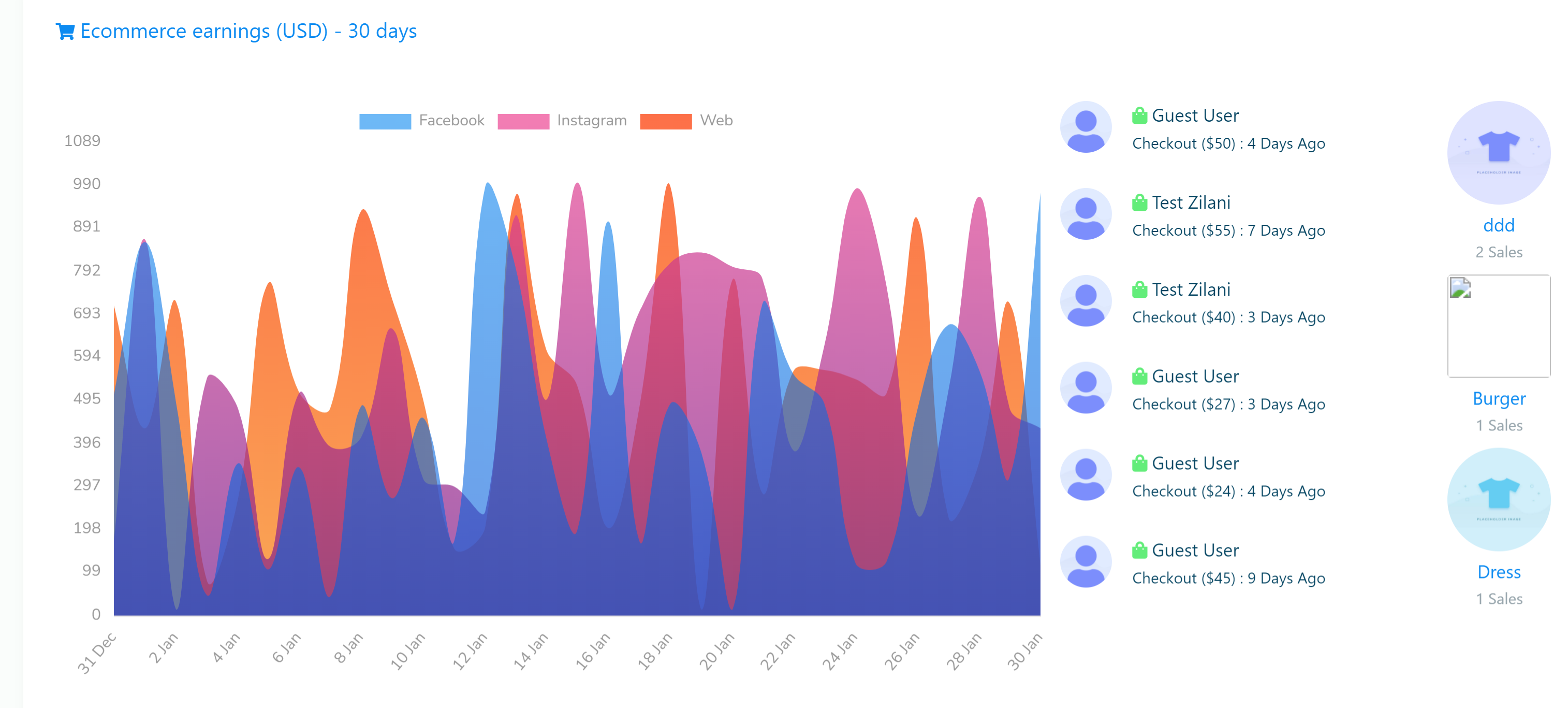 Also, you can see the Email campaigns overview and the SMS campaigns overview.

And an activity calendar will be there.

The menus in the dashboard are rearranged to keep things in one place.

+
Other improvements
Your Facebook or Instagram account with the profile picture will be shown on the top of the interface of every feature. And you can easily switch between Facebook and Instagram accounts. And you can easily change your Facebook and Instagram accounts from a drop-down menu.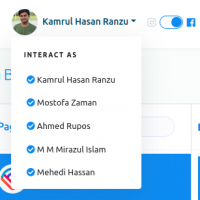 In the comment reply, you can also the filter word exactly matches or any matches occurs with filter word.

Thanks for reading the blog. I hope you will enjoy the new version of ChatPion.