How you can get the highest benefits from Google My Business.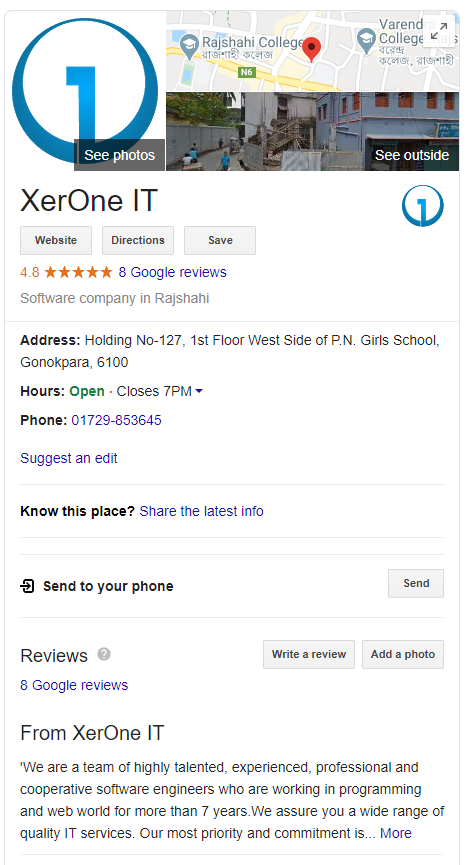 Google My Business(GMB) is a tool from Google to help your online business. It's totally free. You can create and edit your business profile with GMB. If you use GMB, there would be a high chance for your business to appear on Google search page as well as Google Maps. Besides, your business could be placed in a three-pack result from Google. Clients will trust your business, if they see your business in the three-pack result, for they know Google believes in you.
Google collect your business data from your Google my Business listing, then give answers according to the exact query like 'Saloon near me opened now'. Moreover, in GMB profile, customers can leave reviews on your product or service. And nice reviews will help you to get more clients since people usually give importance to other people's opinions.
Clients can see all the initial information (such as open/closed times, product and service information, pictures of your products, location and contacts info of your business) of your business on your GMB profile. Therefore, they can feel attracted and can contact you even without entering your website.It is, however, better to supply updated and detailed business data, reply to the reviews and post your offers and pictures of your product on GMB regularly if you want to receive the highest benefits from it. This is the place where you need to use a Google My Business management software to maintain your whole GMB profile.
There are a few GMB management softwares in the market. You can use any of them. But I suggest you to use XeroBizz.
Here I give a minimal description of this fantastic software. If you want to know more about XeroBizz, go to this link You may end up in buying the software.
XeroBizz is full-featured management software to maintain your Google My Business(GMB) profile. It is made for business owners who are already using or will use Google my Business. In addition to manage your Google My Business Profile, it will guarantee the highest usage of your GMB listing.
Using XeroBizz is fairly uncomplicated- you can run Xerobizz on an easy-to-operate dashboard without any difficulty. By using both Google My Business and XeroBizz, you can monitor your business in different ways from a single platform. Besides, you can watch the ups and downs of your business. XeroBizz and Google My Business(GMB) will play an important role to take your business to potential clients.
Installation:
To use XeroBizz, you have to install it on your server first. But If you want, you can get the hosted service from Xerone IT at a reasonable price. In this case, you just have to open an account on XeroBizz and log in. If so, your XeroBizz will be installed on the Xeron IT's server. Taking a hosted service from Xerone IT will be the best option for you If you don't want the installation hassle.
License:
This app has two kinds of licenses: regular and extended lenience. By using the extended version, you can provide the service of the software to your end-users. Also, you can receive payment via PayPal and Stripe integrated into the software.