Using IniChat, you can grow your business.
Nowadays, Social media is a large source of customers. That is, you can draw customers from followers of social media. Well, the most popular social media is Facebook. A lot of people use Facebook and Messenger worldwide and spend a long time on them. Nonetheless, there are people who don't use Facebook. Instead, they use Instagram or other social media. Instagram is also being popular with time. That is, the users of Instagram are growing day by day. Therefore, to grow your business, besides followers on Facebook, you need followers on Instagram. You can also attract customers from followers on Instagram. 
After you have attracted customers from followers on Instagram, you need to interact with them via Instagram so that they become encouraged to buy products from your business. You can interact with them on your own, but it will consume a lot of time from you. As a result, you will not have time to think about strategies to grow your business. Likewise, you will not have time to spend with your friends and families. Thus, you lose balance in your life.
And when you are tired or overworked, you can't deal with the customers properly. And as a human being, you can't answer questions consistently. 
Therefore, you should use a chatbot for Instagram that will interact with your customers automatically with predefined content. And I will suggest you use IniChat(a ChatPion add-on), an Instagram Chatbot building platform, IniChat that is developed with official API.
Building chatbot for Instagram:
To build a Chatbot for Instagram(using IniChat), ChatPion has a classic bot builder. Besides, ChatPion has Flow Builder, an add-on of ChatPion, a visual drag and drop chatbot builder. On the Flow Builder, You can easily build Chatbot for Instagram by dragging and dropping. 
Answer to the frequently asked questions:
To get an overall idea about your business, the customers need to know the primary things about your business. Therefore, you have to provide frequently asked questions and answers. IniChat can provide frequently asked questions and answers. 
When a customer opens the messenger of your Instagram Profile, the IniChat provides the frequently asked questions. And if a customers click on a question, IniChat instantly provides the answer to the question. Thus, IniChat gives an overall idea about your business to the customers. And getting the overall idea about your business, the customers become encouraged to your business.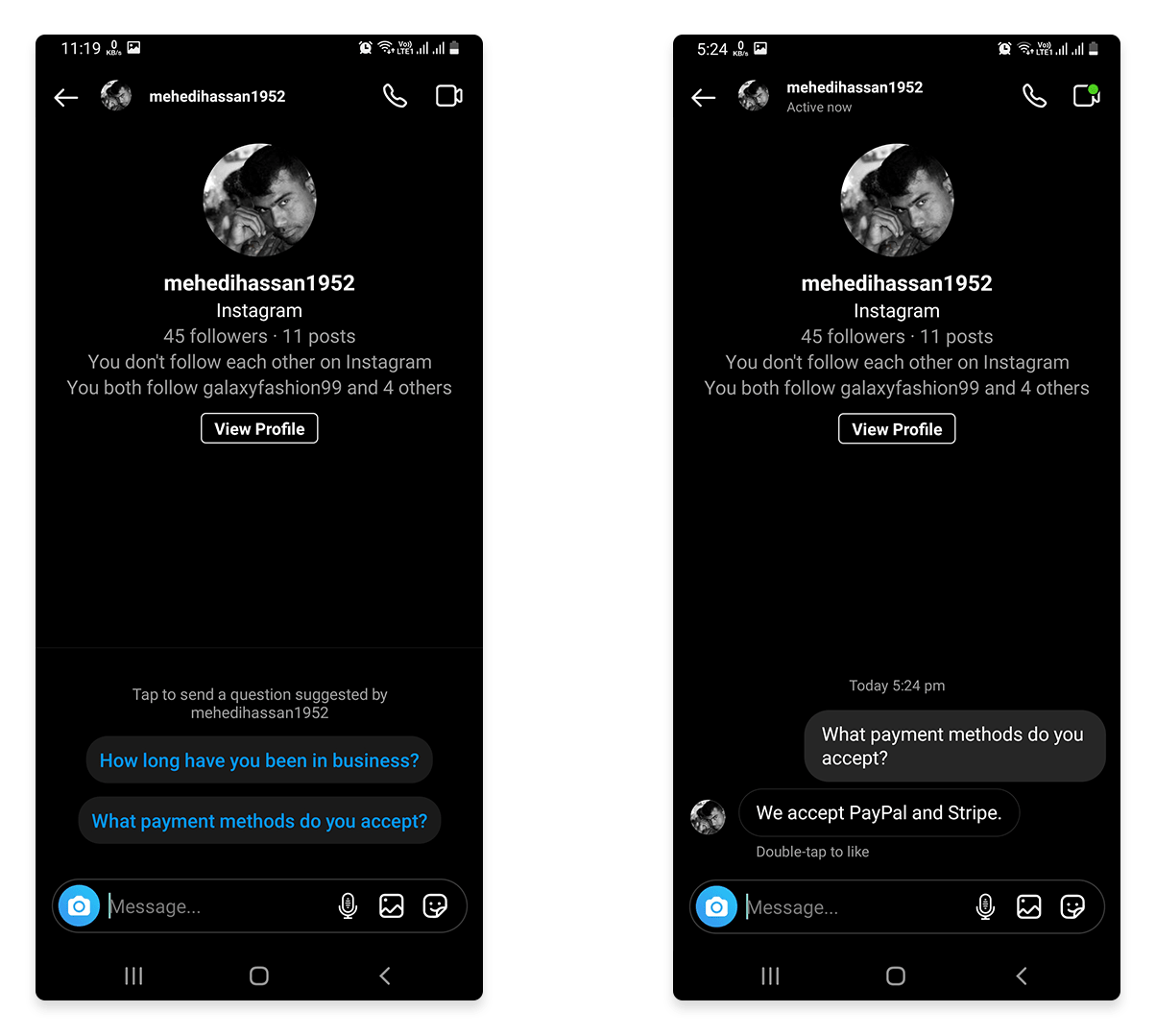 Reply to the queries from customers:
When followers on Instagram become eager for your business, they ask different questions about your business and products. And to satisfy the customers, you should reply to the questions without delay. IniChat can do the work for you. It can reply to the questions from customers with predefined text and images. And unlike a human being, it doesn't become overworked or tired. Therefore, it doesn't show irritation while replying to the questions from the customers.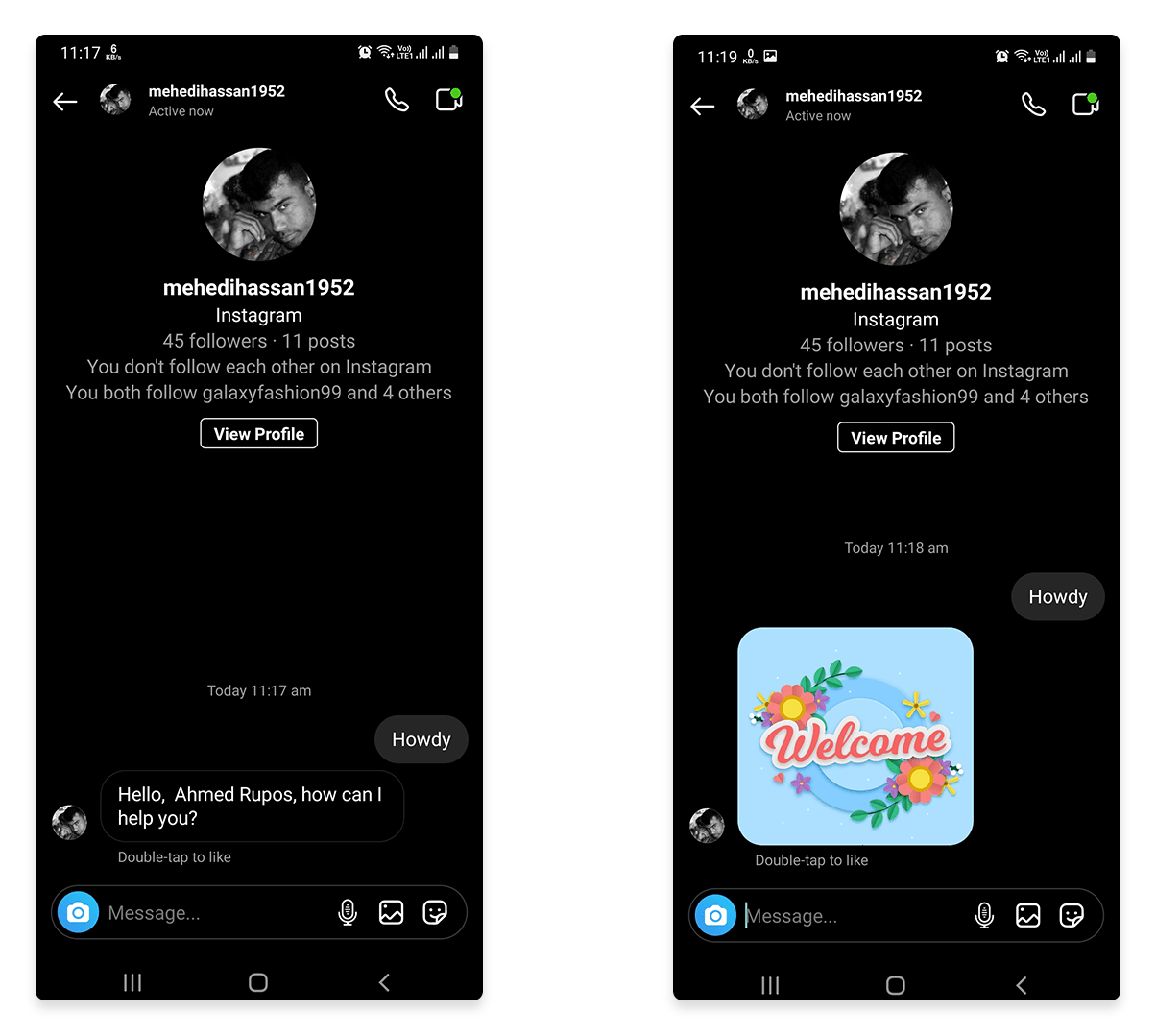 Provide generic templates and carousel sliders:

According to Facebook, the generic template is a simple structured message that includes a title, subtitle, image, and up to three buttons. You may also specify a default_action object that sets a URL that will be opened in the Messenger webview when the template is tapped. And carousel slider is nothing but a combination of generic templates. 
Using the generic template and carousel slider, IniChat lets the users know about different things using the structured messages. Moreover, you can set the product link of your e-commerce store. Then, if the customers click on the button, the product page of your Ecommerce store will appear as a webview. And the customers easily shop on the webview.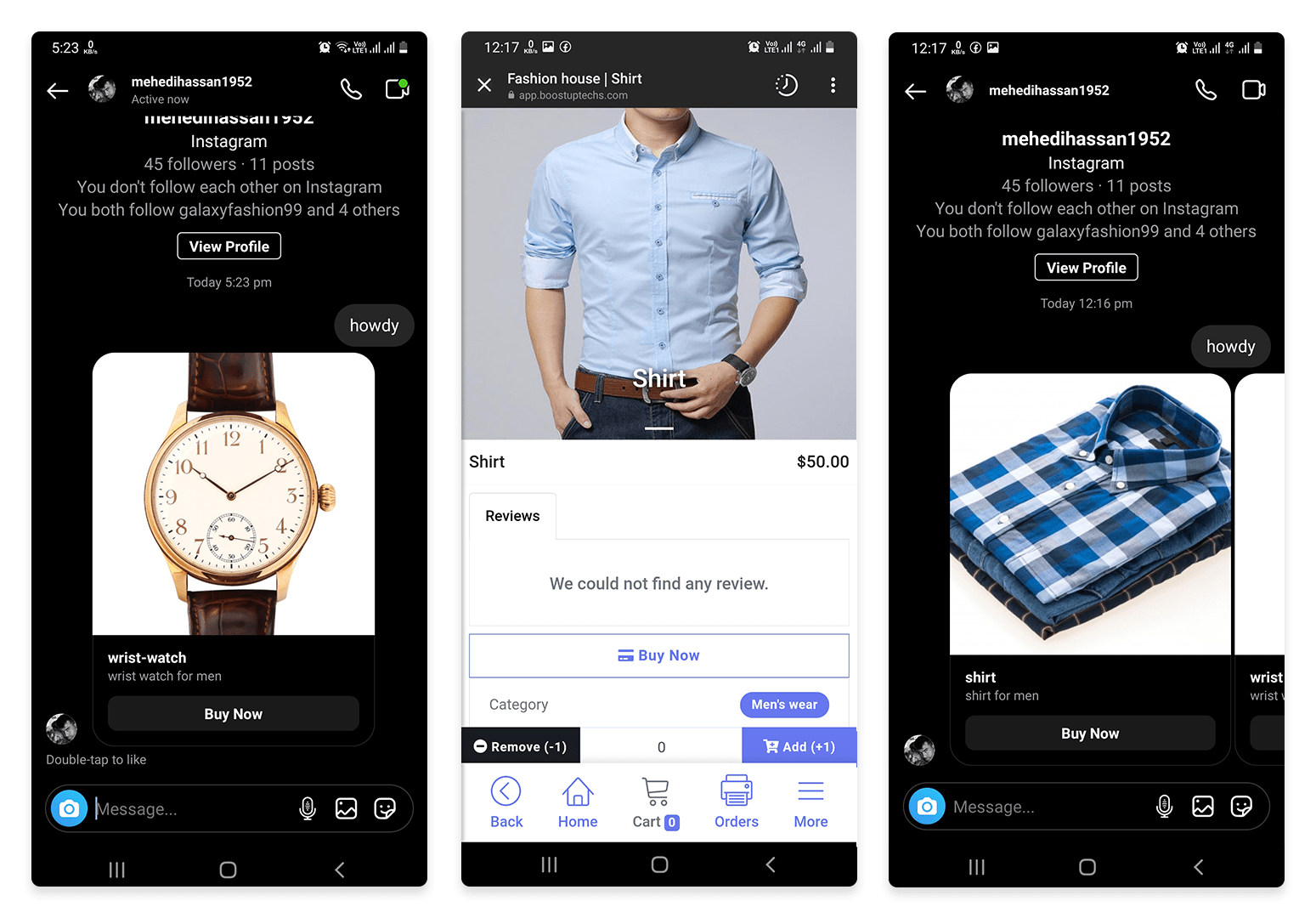 Collect users' data:
You need users' data for many reasons. Therefore, you need to collect the data from the users. With the User Input Flow and Custom Fields, IniChat can collect data from users like a human being in a conversational way. When IniChat asks for information, the user has to type the information with their own hand. Therefore, the information is real, current, and authentic. Of course, a user can skip any question by clicking on a button. Well, the IniChat is smart enough to use the data in the next questions.
Can sell products and receive payments:

Integrated with Ecommerce store, IniChat can sell products inside messenger. You can set the product of your Ecommerce store in IniChat. And the products will appear inside the messenger as a carousel slider. Then customers can select their desired products from the carousel slider. After selecting the products, the customer can add the products to the cart, give payments using the different payment methods including PayPal and Stripe. Of course, the customer can choose a cash-on delivery method. After the check-out process is finished, the customer will get a success message.

Reply to story mentions:
Sometimes people will mention their stories to you. And you need to reply to the story instantly. IniChat can do the task for you. It can reply to the story mentioned without delay.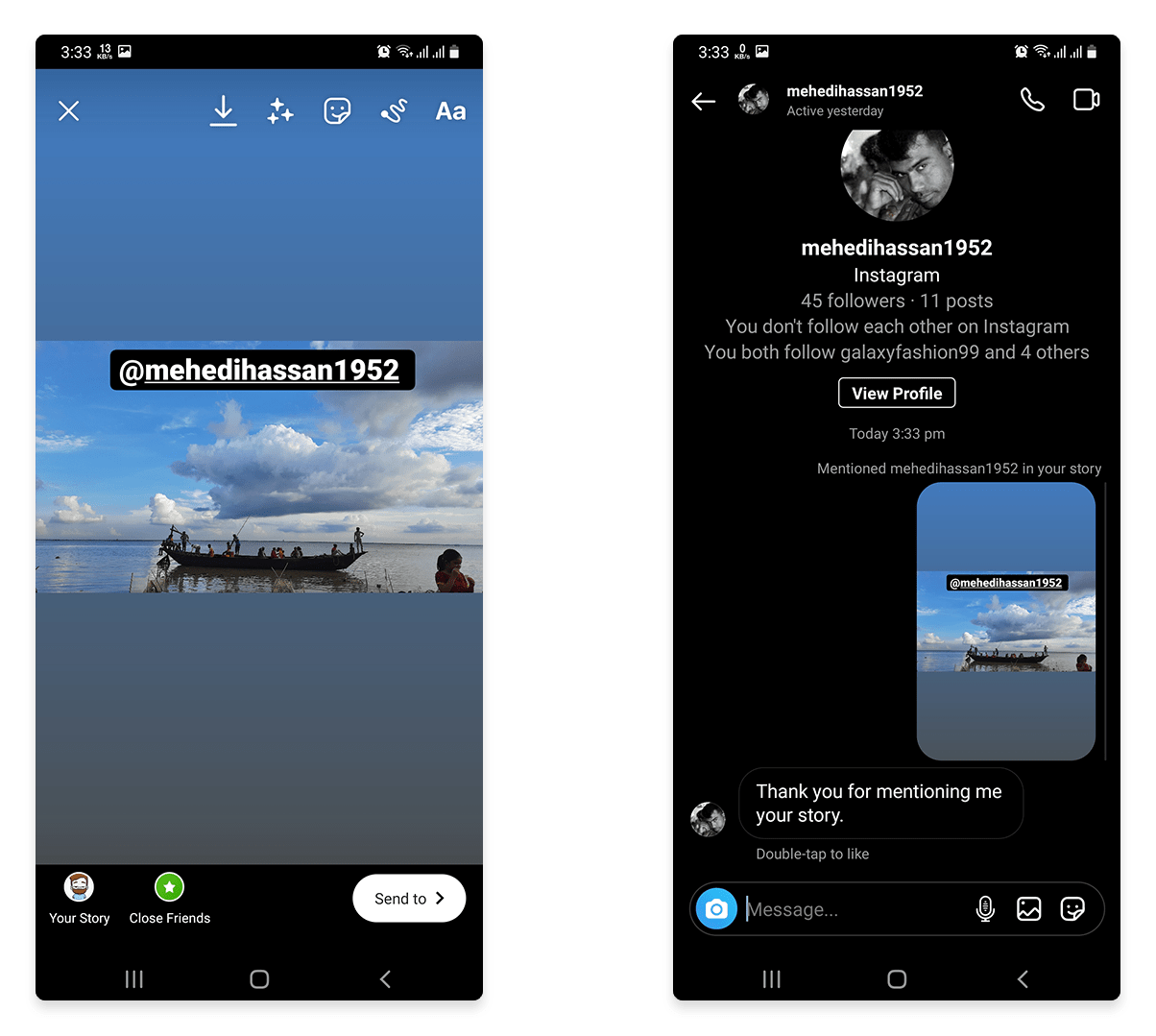 LiveChat:
ChatPion has a livechat. On the LiveChat, you can see recent conversations of the Instagram Profile. Of course, you can chat with the user. When a user is forwarded to a human agent by the IniChat, you can converse with the user on the LiveChat without going to the Instagram messenger.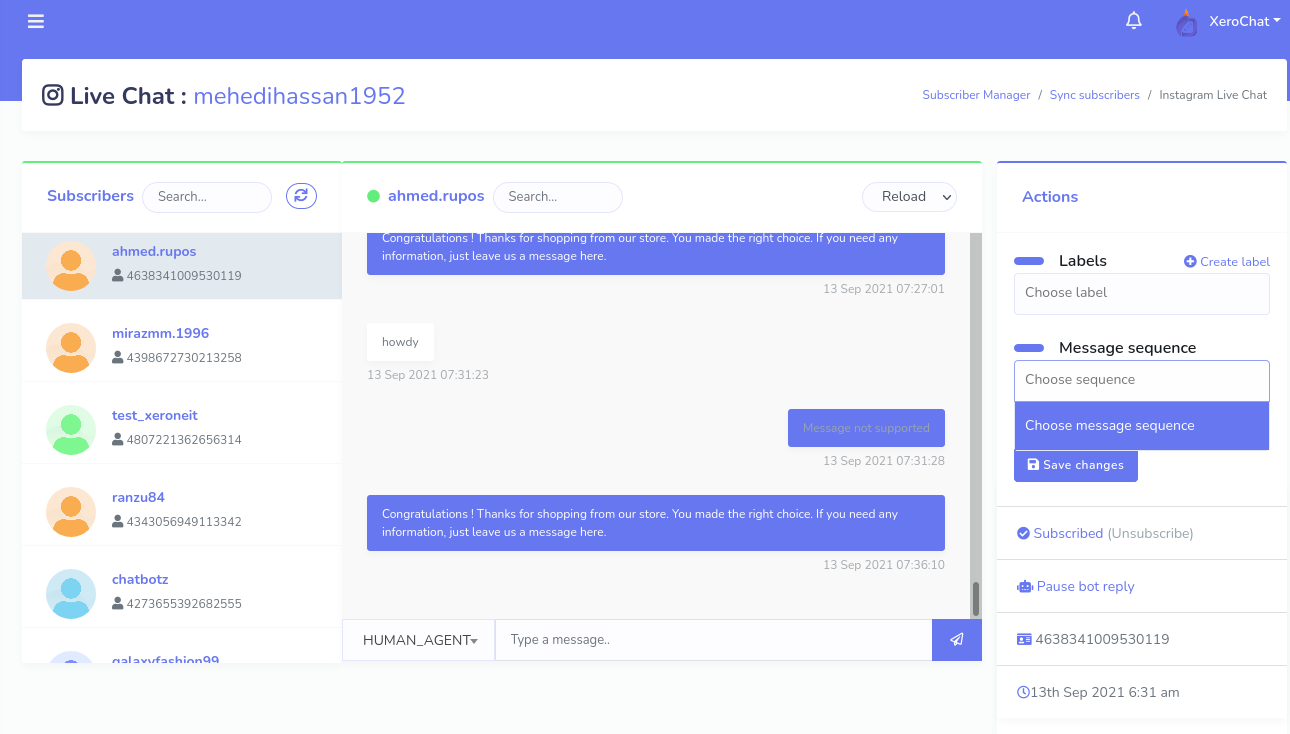 IniChat can deal with and serve your customer perfectly on the Instagram profile. Thus, it can satisfy your customer. And satisfied customers tend to buy products from you. And Integrated with Ecommerce store, IniChat can sell your products to the customers and receive payments inside the Instagram messenger automatically.
Ultimately, it helps you to grow your business. 
Happy Chatboting.